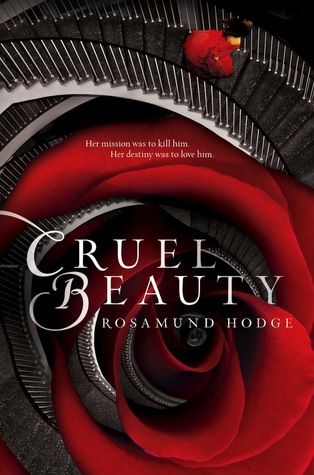 Graceling meets Beauty and the Beast in this sweeping fantasy about one girl's journey to fulfill her destiny and the monster who gets in her way-by stealing her heart.
Based on the classic fairy tale Beauty and the Beast, Cruel Beauty is a dazzling love story about our deepest desires and their power to change our destiny.
Since birth, Nyx has been betrothed to the evil ruler of her kingdom-all because of a foolish bargain struck by her father. And since birth, she has been in training to kill him.
With no choice but to fulfill her duty, Nyx resents her family for never trying to save her and hates herself for wanting to escape her fate. Still, on her seventeenth birthday, Nyx abandons everything she's ever known to marry the all-powerful, immortal Ignifex. Her plan? Seduce him, destroy his enchanted castle, and break the nine-hundred-year-old curse he put on her people.
But Ignifex is not at all what Nyx expected. The strangely charming lord beguiles her, and his castle-a shifting maze of magical rooms-enthralls her.
As Nyx searches for a way to free her homeland by uncovering Ignifex's secrets, she finds herself unwillingly drawn to him. Even if she could bring herself to love her sworn enemy, how can she refuse her duty to kill him? With time running out, Nyx must decide what is more important: the future of her kingdom, or the man she was never supposed to love.
I ignored this book for a while. The cover is visually stunning but I scrolled on by thinking, blah...paranormal romance...blah, but then seeing it pop up again and again on best of 2014 lists and properly pausing to read reviews from people I trust (like Angieville and Keertana of Ivy Book Bindings) had me reserving this baby from my library.
Mate, I was sucked in and enveloped into this visually (well, in the mind's eye, haha) stunning, and utterly compelling read. This re-imagined fairy tale is lush and intricate and full of mysteries, sexual tension and unique mythology.
I love how Hodge took a classic fairy tale and made it her own (adding in a slice of Greek mythology, as well). Nothing was as I expected, veering from Beauty and the Beast in creative ways to put a unique and unpredictable twist on things. The conflicts and character motivations were so well crafted. Nothing came easily, with dark and haunting mythology. The setting was richly portrayed, with a shifting maze of a castle (hidden passages and rooms and secrets within secrets which make the world Hodge created richer and more sophisticated than at first glance).
To elaborate on the sexual tension (always a stand-out feature if done well, haha): It's enigmatic and antagonistic. Both Ignifex and Nyx have conflicting interests/motivations. Nothing is straight up and the attraction between them is not just compelling to read due to their interactions (which are heated/funny/tense/daring/charming/deadly), but has added depth due to watching their struggles and growth as characters and knowing the sacrifices and secrets they hold.
This book wins the up-all-night prize, keeping me turning pages into the squeaky hours of the morning, finishing with that rush you get from being completely absorbed by a good tale, leaving me with a book hangover (which ~ thankfully ~ only lasted until I got my hands on some of Hodge's short stories ~ but that's another tale for another time)
I loved this. And now I'm thrilled to have another title to be insanely excited to read in May this year, Crimson Bound, i
nspired by the classic fairy tale Little Red Riding Hood. Cannot wait!
Cruel Beauty @ goodreads
Rosamund Hodge's Website (short stories and more)