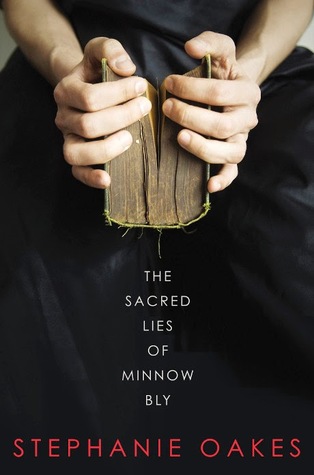 With a harrowing poetic voice, this contemporary page-turner is perfect for fans of Laurie Halse Anderson's Speak, Julie Berry's All The Truth That's in Me, and the works of Ellen Hopkins.
The Kevinian cult has taken everything from seventeen-year-old Minnow: twelve years of her life, her family, her ability to trust.
And when she rebelled, they took away her hands, too.
Now their Prophet has been murdered and their camp set aflame, and it's clear that Minnow knows something—but she's not talking. As she languishes in juvenile detention, she struggles to un-learn everything she has been taught to believe, adjusting to a life behind bars and recounting the events that led up to her incarceration. But when an FBI detective approaches her about making a deal, Minnow sees she can have the freedom she always dreamed of—if she's willing to part with the terrible secrets of her past.
The Sacred Lies of Minnow Bly is a hard-hitting and hopeful story about the dangers of blind faith—and the power of having faith in oneself.
(less)
I was sold on this book when someone mentioned it was kind of in the same vein as Julie Berry's
All The Truth That's in Me
. Mate, I love that book hard. (Now, having read both, they are quite different, but both had the same unputdownable vibe with characters who are both tough and vulnerable). Plus this book has a few fave subjects I like in fiction: cults! mysteries! Fiery, tough and vulnerable characters!
I snuck a few chapters of this in between studying and then ended up abandoning all pretense of studying and reading this in nearly one-all-consuming sitting.
The Sacred Lies of Minnow Bly
was intense and harrowing and painful, 100% compelling and, strangely, hopeful. I couldn't look away. Not only was I engrossed in wanting to find out what happened and what was going to happen, but when reveals and twists came, it was unpredictable and the turns of the plot were really satisfying. Minnow got under my skin and into my heart and I loved watching her story unfold.
I recommend this so much: for fans of good, relentlessly addictive books.
the Sacred Lies of Minnow Bly @ goodreads
So excited for Stepahnie Oakes follow up novel
The Arsonist
due to be released in August 2017! Three months to go :)