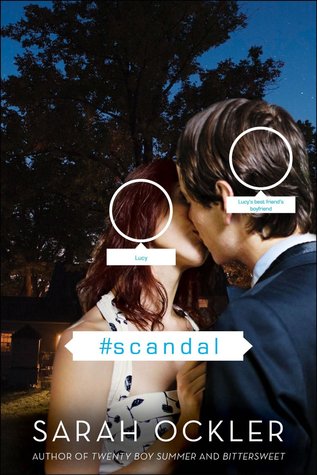 Lucy's learned some important lessons from tabloid darling Jayla Heart's all-too-public blunders: Avoid the spotlight, don't feed the Internet trolls, and keep your secrets secret. The policy has served Lucy well all through high school, so when her best friend Ellie gets sick before prom and begs her to step in as Cole's date, she accepts with a smile, silencing about ten different reservations. Like the one where she'd rather stay home shredding online zombies. And the one where she hates playing dress-up. And
especially
the one where she's been secretly in love with Cole since the dawn of time.
When Cole surprises her at the after party with a kiss under the stars, it's everything Lucy has ever dreamed of… and the biggest BFF deal-breaker ever. Despite Cole's lingering sweetness, Lucy knows they'll have to 'fess up to Ellie. But before they get the chance, Lucy's own Facebook profile mysteriously explodes with compromising pics of her and Cole, along with tons of other students' party indiscretions. Tagged. Liked. And furiously viral.
By Monday morning, Lucy's been branded a slut, a backstabber, and a narc, mired in a tabloid-worthy scandal just weeks before graduation.
Lucy's been battling undead masses online long enough to know there's only one way to survive a disaster of this magnitude: Stand up and fight. Game plan? Uncover and expose the Facebook hacker, win back her best friend's trust, and graduate with a clean slate.
There's just one snag—Cole. Turns out Lucy's not the only one who's been harboring unrequited love...
For a girl whose first reading love is contemporary YA, Sarah Ockler is one of my fave authors for consistently delivering my kind of swoony and compelling reads.
Straight out I'll admit, if this blurb had not been accompanied by Ockler's name I would have passed #scandal by. I have limited interest in online scandals, social networking dramas, cyber bulling, etc even while knowing it's an
important
issue that
should
be represented in
fiction
for this
generation
. But I do have major interest in Sarah Ockler and unrequited love. So cue major excitement because if anyone can get me converted to a tabloid-y internet troll-type story, Ockler would be the one.
#scandal opened straight with action at a swirling prom night and after party where characters dance in and out of the scene laying clues and foundations for the inciting event: the forbidden kiss. It's a doozy of an opener, atmospheric and energetic -- Ockler embraces Lacy's voice (wry, authentic and slightly snarky in a nerdy way. Also, endearingly vulnerable and hopeful). It felt like Ockler had a blast writing this -- with witty asides and tabloid newsletters interspersed throughout. It's voice-y and clever and somehow spirited (despite our protagonists quiet misgivings -- there's a spark in the air).
The plot follows a truly-awful trajectory of gut-wrenching shaming and a mass trolling fall-out where a small scandal snowballs into your worst nightmare. This is interspersed with Veronica Mars style sleuthing with a budding gang of new-to-Lucy crew trying to work out who is behind the attacks. There's a painful best friend fall-out -- and, sadly, despite the truly awesome prom night kiss -- not much time to explore her relationship with Cole.
The pacing is great -- constantly upping the ante with the bullying -- nothing is easy for Lucy. Things go from bad to worse. I felt so, so bad for her. The mystery is sound and the forming of a new rag-tag type group was definitely a highlight for me.
However, it was not a me book. I don't like watching teens behaving badly online and witnessing the stomach-churning, relentless despair and overwhelming horror the victims
endure. It really is distressing.
Also, I missed the Ockler swoon. Cole was cute, sure, and had
potential
to be serious book-crush contender but he was largely absent for major portions of the book. I also missed seeing their relationship develop from crush, to slow burn to anticipation and
realisation
due to the book opening with the love already established on both sides.
I think if this premise is your kind of thing you should check it out, for sure. I like seeing authors try out new genres and twists on their usual MO but this one just didn't resonate with me like Ockler's previous books. Still -- #scandal grabbed me and I charged through it, butterflies in my tummy and all, within 48 hours.
#scandal @ goodreads
Other inkcrush Ockler reviews:
Bittersweet
The Book of Broken Hearts
Fixing Delilah
Thanks to Simon Pulse and Edelwiess for the egalley