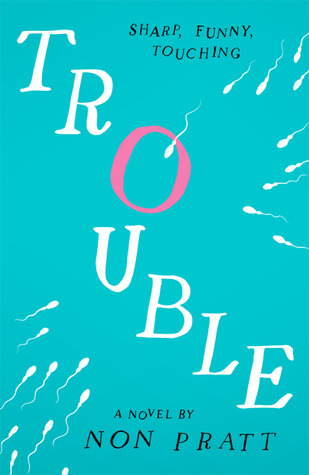 In this dazzling debut novel, a pregnant teen learns the meaning of friendship—from the boy who pretends to be her baby's father.
When the entire high school finds out that Hannah Shepard is pregnant via her ex-best friend, she has a full-on meltdown in her backyard. The one witness (besides the rest of the world): Aaron Tyler, a transfer student and the only boy who doesn't seem to want to get into Hannah's pants. Confused and scared, Hannah needs someone to be on her side. Wishing to make up for his own past mistakes, Aaron does the unthinkable and offers to pretend to be the father of Hannah's unborn baby. Even more unbelievable, Hannah hears herself saying "yes."
Told in alternating perspectives between Hannah and Aaron, Trouble is the story of two teenagers helping each other to move forward in the wake of tragedy and devastating choices. As you read about their year of loss, regret, and hope, you'll remember your first, real best friend—and how they were like a first love.
While Trouble is written in an effortlessly engaging style I wasn't sure whether this UK YA would be my thing despite it having 5 star ratings from trusted friends. Look, it opens with a dose of partying, alcohol, random sexytimes, attitude and angst, and some school mean girl undertones. I have definitely outgrown these themes (they have never been my-kind-of-thing in YA) but Hannah's voice was so refreshing that despite everything I continued on. And I'm glad I did.
I was hooked on voice from the start -- but, IMO, the first 50-80 pages are the weakest. Things really gained momentum after a tenuous start and it soon became clear that this book is completely non-cliche, full of genuine heart, 3D characters and a plot that sails along unexpectedly (whatever you assume this teen pregnancy book is about, it isn't).
I love how Trouble is told in alternating POV -- like the plot, it is unconventional -- happily switching between Hannah and Aaron mid-scene, flipping back and forth in short bursts or sometimes holding one POV for extended lengths of time.
Also it would be criminal for me not to mention the swoon (in an unexpected and unpredictable way).
So many threads come together spectacularly in the last quarter of the book -- at this point the book really hits it's stride and the emotion and gut-punches are real and beautiful and balanced with ache and belonging and horror and hope. And the ending was just fantastic (although I could happily have gone on reading what happens next...)
I liked this a lot -- it was engaging and a read I found myself heading back to, consuming it in a couple of days. I am impressed with this debut and have a feeling Non Pratt could easily become a fave YA author of mine. A shaky start for me that built in awesomeness to a spectacular ending. So watching out for what Pratt has next.
Thanks to Trinja, Mands and Emily (both awarding Trouble 5 shining stars and fave reads of the year) for bringing this book to my attention :)
*If we're talking stars: I'd say 3 stars for the first half and 4.5 stars for the second half.
Trouble @ goodreads