3 Mini reviews: a
thriller
, a chick lit and a YA ... walked into a bar, haha. Ahh, amusing myself :)
The Girl on the Train
'Gripping, enthralling - a top-notch thriller and a compulsive read' S J WATSON, bestselling author of Before I Go To Sleep
Rachel catches the same commuter train every morning. She knows it will wait at the same signal each time, overlooking a row of back gardens. She's even started to feel like she knows the people who live in one of the houses. 'Jess and Jason', she calls them. Their life – as she sees it – is perfect. If only Rachel could be that happy.
And then she sees something shocking. It's only a minute until the train moves on, but it's enough.
Now everything's changed. Now Rachel has a chance to become a part of the lives she's only watched from afar.
Sometimes you know a book is objectively very good but it is not the book for you.
This is not one of those times.
I was so bored while reading The Girl on the Train I am
genuinely baffled
at how most people have found this to be suspenseful and riveting. I read on, hoping for a plot twist or something that would blow my mind. I anticipated up-all-night reading and a deliciously satisfying book hangover.
Instead I got (mostly unlikable) unreliable narrators, a sprinkling of red herrings and carefully doled out information (held back by a main character having selective amnesia) and a very ordinary reveal that made me wish I had listened to my gut and abandoned this 25% in (which is when I could no longer deny I was finding things tedious and boring).
Hawkins does do a good job at setting things up and at making you glad you are living your ordinary suburban life and are not one of her heroines. I genuinely felt for Rachel and the depiction of alcoholism was painfully bleak and harrowing. as far as psychological thrillers go, my fave author remains
Honey Brown
.
I am obviously the outlier on this, so you should probably still give it a go (it is one of the biggest buzz books capturing people's attention so far this year).
Written in the Stars by Ali Harris
Bea Bishop is horrible at making decisions. Forget big life ones, even everyday choices seem to paralyse her. She's learned to live with this because experience has taught her that it doesn't matter what you do, no one has the power to control destiny. Anyone who believes they can is a fool.
But as her wedding day approaches, her years of indecision are weighing heavily on her, and she can't help but wonder, 'What if, what if, what if….'
What if she hadn't upped sticks and moved to London? What if she hadn't grabbed the first job that came along and settled down with the first guy who showed an interest? But all of her questions are silenced when she slips while walking down the aisle and is knocked unconscious. In this split second her life splits into two: in one existence, Bea flees back down the aisle and out of the church. In the other she glides blissfully towards her intended.
But which story will lead to her happily ever after?
Ali Harris handled the logistics of Written in The Stars so amazingly. It is a 'Sliding Doors' concept where we get to see two future timelines played out: one where Bea marries the guy, the other where she leaves him standing at the altar (and explores the possibility of love with an old flame). It was always clear to me which timeline I was following and I loved the creativity in the way the story lines crisscrossed, not just for our MC, but also for her family and friends (whose lives unfolded differently in each timeline). It could not have been easy to map out this concept yet Harris makes it an effortless read. It was also not predictable as to how it would all end (which was a huge drive for reading on).
Having said all that ~ I personally just didn't connect to the characters and the overall writing style. I love the idea of the chick lit genre* but am ridiculously bored or fickle with it, liking the beginning and then fizzing out part way through (not specifically talking about this book here as boring).
If the premise of Written in the Star intrigues you, and you love this genre, it's definitely a book you should scout out and see what you think (the ratings on GR are high, you guys)
* I gotta say, I don't even know if I am applying the classification chick-lit correctly half the time. Is that a thing? And, if so, should it be
hyphenated (lol ~ but seriously, that part's important)
? I am so clueless here.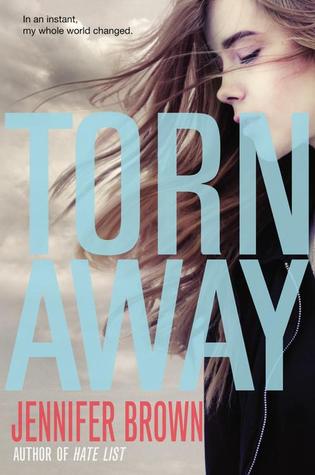 Torn Away by Jennifer Brown
Jersey Cameron has always loved a good storm. Watching the clouds roll in and the wind pick up. Smelling the electricity in the air. Dancing barefoot in the rain. She lives in the Midwest, after all, where the weather is sure to keep you guessing. Jersey knows what to do when the tornado sirens sound. But she never could have prepared for this.
When her town is devastated by a tornado, Jersey loses everything. As she struggles to overcome her grief, she's sent to live with relatives she hardly knows-family who might as well be strangers. In an unfamiliar place, can Jersey discover that even on the darkest of days, there are some things no tornado can destroy?
In this powerful and poignant novel, acclaimed author Jennifer Brown delivers a story of love, loss, hope, and survival.
The set-up, opener and first half of this book is stunning and mesmerising. The storm (hurricane) is captured so powerfully as a massive force of nature and it was brilliant to be in this electrifying and all-encompassing wild weather event alongside our teen MC, Jersey. Who doesn't love a good storm, hey? It wasn't just the storm that drew me in: the writing is nuanced and engaged all my senses.
Then there's the storm fall-out. Jersey was alone during the storm and she sets out to see if her mum, sister, step-dad and friends survived. There were a lot of casualties and this was heart-in-your-mouth heartbreaking, to see the wreckage and grief of an entire community.
No spoilers here but midway the book changes direction as Jersey's life is turned upside down from the events of the storm and she can no longer live at home so she is sent to live with her estranged maternal grandparents.
This is where things fell apart for me. I felt muddled as if I was reading two books ~ one where there is an amazing natural disaster and heartbreaking fall-out. The other (second half) where there was some over-the-top villainous style family issues that had me scratching my head (metaphorically, haha) and disengaging as a reader. The relationships felt bizarre, the character were caricatures with motivations I could not fathom and the pacing and general story arc felt really confusing to me at this point (where was all this headed and what is this book even about!!?!). I wish the book had focused more on Jersey and the storm and picking up the pieces after and not added all these weird family dynamics and theatrics.
I don't often review books that don't work for me. I really like shouting-out about all my faves and sharing the book love. But, I also like to have bit of book chat when books don't work for me, for whatever reasons.
What's the last book you read that you just couldn't connect to?