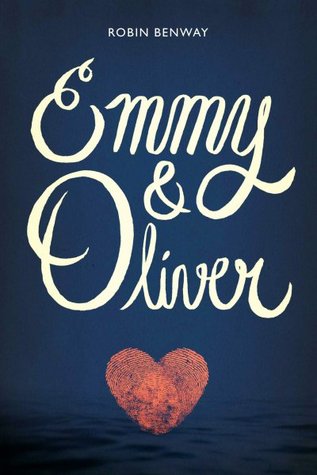 Emmy's best friend, Oliver, reappears after being kidnapped by his father ten years ago. Emmy hopes to pick up their relationship right where it left off. Are they destined to be together? Or has fate irreparably driven them apart?

Emmy just wants to be in charge of her own life.

She wants to stay out late, surf her favorite beach—go anywhere without her parents' relentless worrying. But Emmy's parents can't seem to let her grow up—not since the day Oliver disappeared.

Oliver needs a moment to figure out his heart.

He'd thought, all these years, that his dad was the good guy. He never knew that it was his father who kidnapped him and kept him on the run. Discovering it, and finding himself returned to his old hometown, all at once, has his heart racing and his thoughts swirling.

Emmy and Oliver were going to be best friends forever, or maybe even more, before their futures were ripped apart. In Emmy's soul, despite the space and time between them, their connection has never been severed. But is their story still written in the stars? Or are their hearts like the pieces of two different puzzles—impossible to fit together?
Readers who love Sarah Dessen will tear through these pages with hearts in throats as Emmy and Oliver struggle to face the messy, confusing consequences of Oliver's father's crime. Full of romance, coming-of-age emotion, and heartache, these two equally compelling characters create an unforgettable story.
I've loved Benway's writing since grinning my way through Audrey, Wait! She has a knack for effortlessly drawing readers in a story with her seamless prose and easy humour. But even without a pre-existing love for Benway, I was really drawn to this blurb. So many fave elements of mine: mysterious ten missing years, pre-existing history (childhood friendship) and boy next door (they're neighbours!).
Emmy & Oliver is a different style to Audrey, Wait! It's more emotionally-driven drama (with real depth -- no melodrama!) than quick comedy grab. But there's trademark, wry humour to lighten the mood in places.
Benway captures both past and present, with key moments in Emmy and Oliver's history embedded in mini-chapter-scenes throughout the novel. These past moments were just gorgeous and tugged at my heartstrings -- also featuring the same circle of friends that are hanging out in the present. Aside: the friendships in the novel also bring depth, emotion and much needed humour :)
In the present, things are complicated. It's no easy friends-to-romance swoony-scene read. Oliver's situation is complex and trauma runs deep. Emmy is unsure what their relationship should be, and readers will be uncertain, too (I loved the not-knowing and just watching things quietly unfold). I imagined (from the blurb) that there would be more romance in this, but it's more focused on the emotional arcs of the characters and on friendship.
It's a quiet read, one you need to settle into and breathe deep. I liked that about it because it felt real and not contrived but it did have it's drawbacks: mainly a kind of mid-book lull where I was restless, waiting to see where it was all headed and desperate to see if things were going to work out for Emmy and Oliver. my fave parts of this were definitely the beginning (captivated me) and the end (nicely done!).
Thanks to Harperteen and Edelweiss
for the egalley!
Publication date: June 23rd, Harperteen
Emmy & Oliver @ goodreads