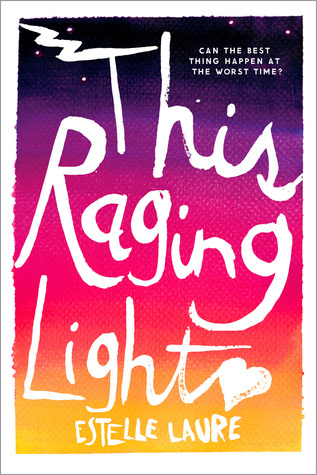 Can the best thing happen at the worst time?
Her dad went crazy. Her mom left town. She has bills to pay and a little sister to look after. Now is not the time for level-headed seventeen-year-old Lucille to fall in love. But love—messy, inconvenient love—is what she's about to experience when she falls for Digby Jones, her best friend's brother. With blazing longing that builds to a fever pitch, Estelle Laure's soulful debut will keep readers hooked and hoping until the very last page.
Right from the first chapter I had that awesome feeling that this book was about to become a new favourite. It hooked me from the start with a captivating and believable scenario, characters who related to one another with ease (and drew me into their world) and prose that was fresh with little touches of ... whimsy? lyrical-vibe? slightly off-beat? (Hard to capture the prose-essense, but it felt kind of melodious to read).
I enjoyed my time with this, but it fell a little short of becoming a fave new contemporary YA read for me. On reflection, I *think* it was just a little bit too short, making some of the plot threads feel scattered, or like they jumped from one stage to another leaving me wondering 'why is this character doing that?' and 'wait, what?'.
I loved the depiction of Lucille and her little sister, Wren. I also loved the vibe at Lucille's restaurant workplace ~ lively and upbeat and fun. I would have loved to know the workplace characters a little more, they had all the makings of stand-out, unique characters and I'd love to explore some of their back stories.
Laure captured the next door neighbour relationships really well. The best friend thing had awesome history and a great vibe where they felt like best friends in all the little interactions. The swoon for the best friend's brother storyline was perfectly set-up and I was absolutely on board. But halfway through, I really felt confused by the weird tension in the BF relationship (and even in resolving this, it just seemed contrived) and also mystified by the complications in the romance side of things where the characters never actually talked about their complex changing relationship. I wish more time had been given to Digby and Lucille's relationship because it didn't feel as central to the story as the blurb had led me to believe it would be and it was hard for me to invest in it, in the end.
I hardly say this (mostly the opposite is true) but I wish this book had been longer. I would have liked more scenes with Digby and Lucille (either form present or past) so I could be a part of their story. I would have loved more restaurant scenes, and to know more about the co-workers (I loved the atmosphere built) and a little bit more of the neighbours (both sides) and also more about Lucille's parents and their family life ~ before it all fell apart (so I could have a sense of what was truly lost, and to see her mum and dad as more than just parental figures, but as unique characters). Because everything was there, in place, for me to love this book but it just flew by
too fast without giving me a chance to settle in and feel emotion alongside everyone.
This Raging Light is a gorgeously written, unique and completely readable promising debut. I am looking forward to Laure's next book (a companion!) ~ I think Laure is an author to watch out for (for all lovers of contemporary YA).
Check out all these gorgeous editions of This Raging Light! <3
US Edition
Spanish Edition

German Edition
Add caption
Italian Edition
Dutch Edition

Czech Edition
Polish Edition