My mate
Melanie
tagged me for this blog award. Thanks Melly!
So now I get to pass on ten things about me that I bet you were dying to know:
1. Naomi backwards is I moan. This fact continues to haunt me...
2. I LOVE public speaking. The adrenalin, being on a stage and having everyone's attention just gets me going, haha.
3. When I was 17 I fell off a cliff at
The Glasshouse Mountains
in Queensland. It's one of the freakiest things that's ever happened to me. I thought I was going to die, haha. I went in shock and couldn't stop shaking for ages. I still have scars from it - I know I'm pretty lucky!
4. I have always been besties with the librarians in every place I've lived.
5. My mum is Scottish. My dad is Irish. Dad went to Ireland last year and traced our ancestry to the McTaggart's and the Farquards (like in Shrek). LOL. My brother and I had a bit of a snigger when Dad was telling us. (My maiden name is Taggart).
6. I once wanted a pet rat. I was going to call him Gullyjack. Mum said no, but for some reason, I still reminisce about the rat that never was.
7. When I was 15 I fell off the back of my mates motorbike and landed on my butt in the paddock. I was laughing so hard I didn't notice how badly I was hurt. Unfortunately, when I discovered all the damage, I couldn't show off all my wounds :)
8. The first time I went fishing, I was all pumped because I snagged something heavy on the line. After generating buzz all along the jetty, it turned out to be an old waterlogged shoe. I felt like a character out of a book, catching a shoe :) Mum didn't let me keep it...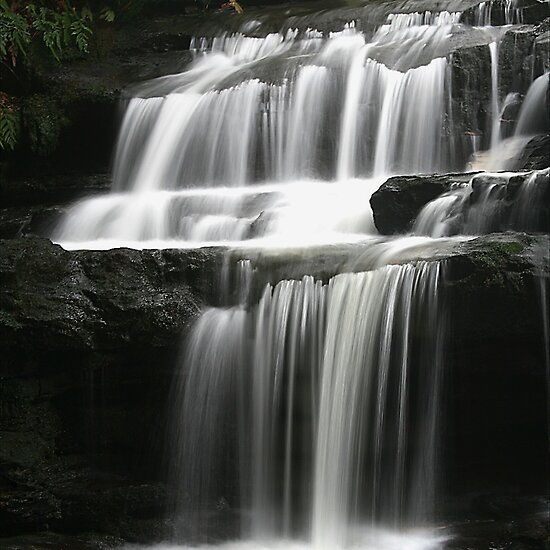 Leura Cascades
9. I grew up in the Blue Mountains. We lived opposite Leura Cascades and the cascade started on our property - we had a waterfall running through our yard, a whirlpool, three creeks and a cave in our backyard (4 acres). As well as random bushwalkers who didn't realise they were trespassing :) It was a pretty awesome childhood.
10. I went to India when I was 12. It was a brilliant experience. I plan on taking my kids to some developing nations while they are still young.
I'm tagging Nic @
Irresistible Reads
, Bee @
Dreamcatcher's Lair
, and Anna @
Cherry Banana Split
Now for some contest linking love :)
Author Jill Hathaway is
giving away her copy
of the most most highly anticipated BUMPED by Megan McCafferty.
Open internationally.
My Girl Friday is
giving away a signed copy of one of my favourite books
- Six Impossible Things by Fiona Wood. I love this book so much! If you're an
Aussie
you don't want to miss out on this!
The most awesome Caitlin (putting the 'stud' in 'student' since 1994) is having
a magical giveaway
which includes three winners, all choosing things from The Book Depository. She also runs a pretty funky blog :)