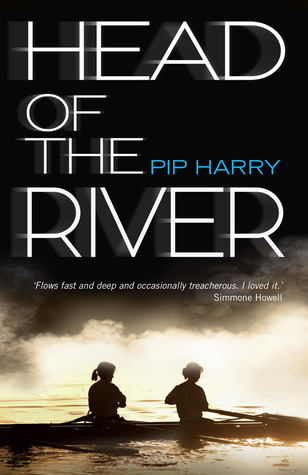 'Flows fast and deep and occasionally treacherous. I loved it.' - Simmone Howell, author of Everything Beautiful and Girl Defective
It's the most elite school sporting event in the country. Nine rowers, 2000 gruelling metres and one chance for glory in the ultimate team sport. Sit forward ... ROW.
Tall, gifted and the offspring of Olympians, superstar siblings Leni and Cristian Popescu are set to row Harley Grammar to victory in the Head of the River.
With six months until the big race, the twins can't lose. Or can they?
When Cristian is seduced by the easy route of performance-enhancing drugs, and Leni is suffocated with self-doubt, their bright futures start to fade. Juggling family, high expectations, study, break-ups, new relationships and wild parties, the pressure starts to build.
As the final moments tick down to the big race, who'll make it to the start line? And who'll plummet from grace?
Head of the River by Pip Harry was a highlight of my 2014 reading year. It was absorbing and captivating, unpredictable and unique and is a brilliant addition to our much-praised and thriving Aussie YA scene.
Pip Harry is one of those YA authors who capture the teen voice and experience so authentically and without condescension. Her characters are brave and true and flawed and the kind of teen who, were I to meet them in real life, have the power to inspire adults with their courage and intelligence (in spite of making some foolish decisions ;) ).
One of the reasons I love contemporary YA is because it's a genre that lends itself so well to capturing emotion and placing readers in the characters shoes. Harry excels at this: the emotion and passion and pressure is captured so viscerally -- giving an immediacy and realness to everything Leni and Cristian go through. It's incredible -- the kind of commitment and dedication it takes for teenagers to train and compete and perform.
While Head of the River centres around Lani and Cristian's rowing -- there are just so many more themes that seamlessly blend into the work.
Though the themes could lend itself to something more heavy-going, Harry's prose reads effortlessly and I found myself sailing through, finding it all too easy to keep reading just-one-more-chapter.
The strength of Harry's writing is how the characters are so honest on the pages. They have hopes and fears and keep secrets, they crush and swoon and are let down. This is a story that explores highs and lows.
One thing I loved: while some plot threads were heading towards obvious disaster or conflict -- nothing was predictable and everything played out so organically it felt real.
So highly recommended. I hope many more readers have the chance to read Head of the River. Meanwhile, I'll be hanging out for Harry's next book :D
Head of The River @ goodreads
Pip Harry's site