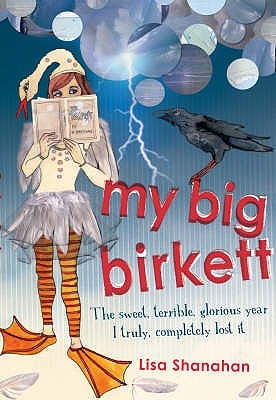 My Big Birkett by Lisa Shanahan
'The sweet, terrible, glorious year I truly completely lost it.' (both titles are the same book).
IN MY FAMILY, when anyone rides the wave of their emotions, we say they're chucking a birkett. When the emotion drives out all common sense, we say they're chucking a big one. The telltale signs are: flaming cheeks, shortness of breath, bulging eyes, and a prolonged illogical outburst.
Gemma Stone is convinced that it's always unseemly to chuck a birkett and that it's actually insane to chuck one in front of a complete stranger. But that was before she fell for a boy who barely knows she exists, before she auditioned for the school play, before she met the family of freaks her sister Debbie is marrying into, before the unpredictable Raven De Head took an interest in her, and before she realized that at the right time and for the right reason, a birkett could be a beautiful thing.
It's about Gemma, and her family (her sisters getting married and, mate, is it hilarious) and school, where she auditions to go in a production of the tempest. She's crushing on the popular, cute boy, but gets assigned to rehearse with Raven, the bad boy (really, like from the town's derro family) who's always flirting with her.
I adored this book. It's funny (silly-grin-on-your-face-half-the-time-you're-reading-it-funny) and it produced the occasional snort of laughter (and I'm not a snorter, even at the best of times). It's utterly charming, really. I just love Gemma, whole-heartedly. She's dramatic and honest and comes from a crazy but genuine Aussie family and I would so be best friends with her (you would be, too). When she stuffs up, I really felt that little sinking feeling in my stomach along with her.
Plus, Raven De Head.
Stroke of genius, that name. Haha.
He is one of the coolest fleshed out love interests ever. Seriously. He is so unpretentious. Somehow, his bad boyness is not at all cliché, but rather heart-wrenchingly honest. I loved the scenes with Raven and the De Head family. The whole De Head family really struck a chord with me. One of those families that have a bad reputation, multiple wrecked cars on the front lawn, a brother in jail and the whole town against them. I actually ached for the boys, so sweet, but all tough exterior. And I could see why Gemma struggled with becoming friends with them. There's one fight scene at the De Head house that is so well done, I swear, I was in that room, wide-eyed and scared alongside Gemma.
This book was short-listed for the Children's Book Council of Australia awards. It is very Australian - Aussie humour and a heap of our slang. Who doesn't love Aussie humour ;)?
Here's a quote from the School Library Journal that sums it up nicely:

"Shanahan's quirky characters are a riot, but the depth of Gemma's growth and heartbreak is genuinely profound."
—Terri Clark