Over in the
Young Adult Forum @ Absolute Write
the lack of male protags in YA often comes up in threads. So true, so true... So I wanted to highlight two awesome reads starring male protags (both read this year).
Both of these books I randomly picked up not having not heard of them. I was only a few chapters into
I Know It's Over
when I was thinking, mate, this book is
good
.
I really love that feeling of having zero expectations about a book and then being wowed. Like an unexpected gift.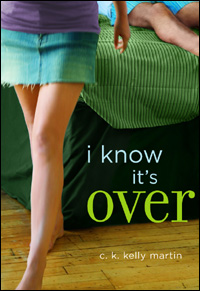 I Know It's Over - C K Kelly Martin
PURE. UNPLANNED. PERFECT. Those were Nick's summer plans before Sasha stepped into the picture. With the collateral damage from his parents' divorce still settling and Dani (his girl of the moment) up for nearly anything, complications are the last thing he needs. All that changes, though, when Nick runs into Sasha at the beach in July. Suddenly he's neck-deep in a relationship and surprised to find he doesn't mind in the least. But Nick's world shifts again when Sasha breaks up with him. Then, weeks later, while Nick's still reeling from the breakup, she turns up at his doorstep and tells him she's pregnant. Nick finds himself struggling once more to understand the girl he can't stop caring for, the girl who insists that it's still over.

(goodreads)
The first thing I noticed is that it is blurbed by Jaclyn Moriarty <3!

"This book is compelling and unswervingly honest. It takes on real complex issues with a light, deft touch. The second half broke my heart a little every page or so."

Awesome blurb, hey?
As a writer, I am a little in awe of the non-chronological time-line. Plus, the male POV is truly outstanding. It's honest and raw (such a cliché word, but, hey, it's true) and complex. And, things just don't turn out how you expect them too.
Not going to review it, just wanting to tell you that I loved it :) And, I am definitely going to be reading more work by C K Kelly Martin.
You can read Adele @ Persnickety Snarks review and also what Courtney Summers has to say about it. (both are pretty amazing reviews...)
What My Girlfriend Doesn't Know - Sonya Sones
My name is Robin.
It tells the story of what happens when after almost 15 pathetic years of loserdom, the girl of my dreams finally falls for me.
That seems like it would be a
good
thing, right? Only it turns out to be a lot more complicated than that.
Because I'm not gonna lie to you -- there are naked women involved. Four of them, to be exact. Though not in the way you might think.
Don't get me wrong -- my girlfriend's amazing. But the way things have been going lately, I'm starting to believe that the only thing worse than
not
getting what you want, is
getting
it.

(goodreads)
This book, I just loved it.

First off, it is a verse novel. And I find most verse novels to be compelling and richly drawn. I read this curled up in bed on a rainy day and flew through the pages. The thing about this book is it gets cooler and cooler as it goes on.
There were parts in it where my heart just
ached
for Robin and Sophie. I was definitely cheering them on. And, some events in the book filled me up with warmth in the best kind of uplifting way. Other events broke my heart and had me holding my breath - I definitely felt the tension and Robin's pain.
This book feels like high school and reminds me why teenagers are so cool and such an incredible age-group to read about. It reminds me how hard it is to be a teenager - but also how awesome it feels.
By the end, I just had this happy feeling :) In fact I have a happy feeling now just thinking about it.
Have you read either of these? What did you think?
Now for a
give-away
- yay!
The winner will receive their choice
of either
I Know It's Over
or
What My Girlfriend Doesn't Know -
just sharing the love :).
I use The Book Depository - so it's
open internationally.
Leave a comment (below) and recommend to me either:
a favourite verse novel,
or a
favourite YA novel
with a male protag
. And I'll use a random number thingy and announce the winner on Sunday the 27th :)