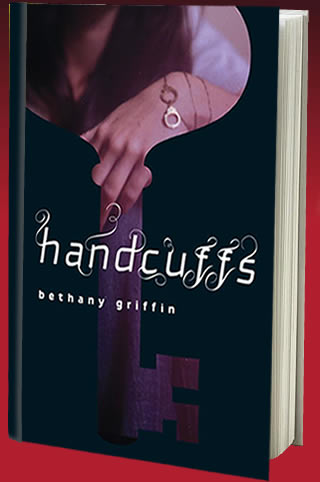 Coming down from the most sexually charged moment of your life to face humiliation, unfulfilled lust, and the boredom of indefinite grounding is tough. Sixteen year old Parker Prescott alternates her punishment time between sneaking out to see her would-be lover and playing internet pranks. One of these activities will lead to an unflattering mug shot, but both will land her in handcuffs.
(from
authors site
)
Oooh - how good is that hook?
Here's the back blurb:
Parker Prescott is an Ice Princess. Cold, aloof, a snob. At least, that's what everyone says on Marion Hennessey's blog. And everyone reads Marion Hennessey's blog.
Parker Prescott is a middle child. She's the good one, the dependable one, the one her parents trust. Well . . . she used to be.
Parker Prescott's parents want her to break up with her boyfriend. But she already did, two weeks ago.
And then she realized it was a mistake. He came over. He had the handcuffs in his pocket. Everything went downhill from there. Sort of.
Parker Prescott's world is changing and she no longer knows who she is. Does anyone

?
Parker has such a perfect teenage voice that I felt like I was visiting my own past teen self
.
The tension in this book! I was completely sucked in - especially with the escalating high school warfare and Parker and her boyfriend/ex-boyfriend (supreme hotness) who's relationship is complicated and sexy in the best of ways.
Griffin writes with a subtlety that captures those teen feelings of identity and belonging and high school hardships and... lust :)
I especially loved the intricate ways Parker related to her mum and her older sister (I also adored her little brother. ADHD little bro's FTW!) And, confession, I am a middle child. So, Parker and I are likethis.
I expected to like this book - I didn't quite expect it to have as much depth as it did. Especially in various charcters sub-plots, like her sister and her neighbours. Whoah - impressed me :)
Basically - I really really liked this book.
I recommend this to: people who love contemporary YA with well-drawn characters, hot steamy moments and page-flipping high school tension.
Random stuff:
You never find out the name of Parker's boyfriend/ex-boyfriend. OooOooh - I liked that...

The ending! Argh! I don't know what to say, but it kinda broke my heart but also felt good. Cryptic, I know.

Get comfy before you read this. Because you won't want to put it down.

I kept imagining if my parents walked in on me and my boyfriend while we were... and I was in handcuffs. My poor lovely dad would die... My mum? I would be sooo dead. Me? Thank God I only had to live through it vicariously :)

And, yay! I won this book from Bethany Griffin, who has a fab blog and she signed it (to me!). My 13 year old niece says Bethany has the best writing. "Oooh - I wish I had that writing," she was gushing :)