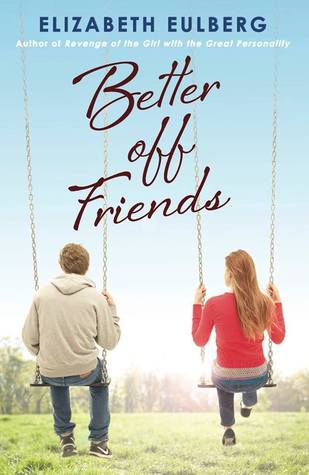 For Macallan and Levi, it was friends at first sight. Everyone says guys and girls can't be just friends, but these two are. They hang out after school, share tons of inside jokes, their families are super close, and Levi even starts dating one of Macallan's friends. They are platonic and happy that way.
Eventually they realize they're best friends — which wouldn't be so bad if they didn't keep getting in each other's way. Guys won't ask Macallan out because they think she's with Levi, and Levi spends too much time joking around with Macallan, and maybe not enough time with his date. They can't help but wonder . . . are they more than friends or are they better off without making it even more complicated?
From romantic comedy superstar Elizabeth Eulberg comes a fresh, fun examination of a question for the ages: Can guys and girls ever really be just friends? Or are they always one fight away from not spe
aking again — and one kiss away from true love?
My first Elizabeth Eulberg completely charmed and captivated me -- which has me wondering how I have managed to not discover her earlier?
Better Off Friends was completely winsome and breezy with perfectly pitched emotion and depth. It was hard not to fall for these two -- I settled in, snuggled up and just grinned and swooned and sighed my way through this. I think a standout for me is definitely the honesty and realism presented in the pages. It felt true-to-life and without guile. It was fresh without any gimmicky attempt to amp up emotions which allowed the characters and plot to breathe and stand on it's own.
I loved that this book spans about five years (presented in alternating POVs -- often refelcting on the same event, which was really captivating). It gave so much realness and depth to all the main characters (and their friends and families) and to the ups and downs of Macallan and Levi's relationship. Also, I just loved hanging out with these guys and watching them and their lives over 5 years (so cool, seeing all the changes and hanging out in anticipation for the goodness to come)
I loved the chapters set in Ireland (just an FYI).
This is perfect for a rainy day weekend, or a chilled-out beach read. It's been a few weeks since finishing this and it still resonates with me (in a happy-making, smiley way). It is so much what I love about the contemporary YA genre (best friends, crushes, childhood memories, classic coming of age themes, families, self-doubt and identity) all in one addictive, sweet, swoony, achey and fun read. The effortless style drew me in and the characters kept me there. I am whole-heartedly recommending this to all fans of contemporary YA -- especially those of you out there who are in need of a refreshing, charming and effortlessly captivating read (complete with depth and so much contemporary YA goodness).
Have you read Elizabeth Eulberg?
Any faves from her backlist that I should prioritise getting to?