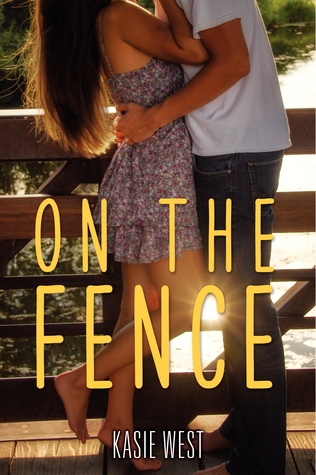 She's a tomboy. He's the boy next door…
Charlie Reynolds can outrun, outscore, and outwit every boy she knows. But when it comes to being a girl, Charlie doesn't know the first thing about anything. So when she starts working at a chichi boutique to pay off a speeding ticket, she finds herself in a strange new world. To cope with the stress of her new reality, Charlie takes to spending nights chatting with her neighbor Braden through the fence between their yards. As she grows to depend on their nightly Fence Chats, she realizes she's got a bigger problem than speeding tickets-she's falling for Braden. She knows what it means to go for the win, but if spilling her secret means losing him for good, the stakes just got too high.
Fun, original, and endearing,
On the Fence
is a romantic comedy about finding yourself and finding love where you least expect.
One of my huge sleeper hits of 2013 was
The Distance Between Us by Kasie West
which I reread in the weeks following my initial all-nighter read. This was followed by major excitement for her 4th book and 2nd contemporary YA title, On The Fence. I was sold from the first line of the blurb:
She's a tomboy. He's the boy next door…
sign me up
(who doesn't love a boy-next-door
contemporary
YA?)
You guys, I am fast becoming a huge fan of Kasie West and suspect I will soon feel the same way about her as I do about Elizabeth Scott (who is one of my fave YA authors for swoon and comfort reads -- although completely different in style they both hit the spot).
On The Fence is my kind of reading escape: fun and swoony with the perfect combo of coming of age doubts and insecurities, fun and
energetic
family dynamic (with a few family secrets thrown in) and slow burn crushing complete with late night in the dark chats. Things are predictable but in that kind of way that you savour the anticipation of how things will unfold.
I love curling up with books like this. Complete happy-making escapism -- smiley teenage angst that's a perfect blend of light with just enough emotional depth to tug on your heart in the right moments. I am so sold on Kasie West and am officially insanely excited for her next title, The Fill-in Boyfriend. (May 5, 2015)
My review of Kasie's first YA contemporary: The Distance Between Us (If pressed, I'd say this is my fave so far, but I still so thoroughly enjoyed both her books