Here are 15 young adult books all releasing in the second half of this year that I am most crazily excited for. All but two are straight up contemporary. All (except one which is a companion novel) are stand alone titles. Some I have been waiting on for what seems like such a long time (I'm looking at the new Paula Weston ~ can you believe it is almost here!) and others I've more recently stumbled upon and have high hopes for.
I am also so incredibly out of the loop regarding upcoming titles, both Australian and international, so I am sure there are other books out there that I really want too, haha, but these are my fave ones waiting on my goodreads TBR.
It goes without saying that if Jaclyn Moriarty's new book suddenly gets a pub date in 2017, that will be my number one ;)
They are listed here in order of release date. All links (in the titles) go to goodreads.
What To Say Next by Julie Buxbaum
From the New York Times bestselling author of Tell Me Three Things comes a charming and poignant story about two struggling teenagers who find an unexpected connection just when they need it most. For fans of Sophie Kinsella, Jennifer Niven, and Rainbow Rowell.
Sometimes a new perspective is all that is needed to make sense of the world.
KIT:
I don't know why I decide not to sit with Annie and Violet at lunch. It feels like no one here gets what I'm going through. How could they? I don't even understand.
DAVID:
In the 622 days I've attended Mapleview High, Kit Lowell is the first person to sit at my lunch table. I mean, I've never once sat with someone until now. "So your dad is dead," I say to Kit, because this is a fact I've recently learned about her.
When an unlikely friendship is sparked between relatively popular Kit Lowell and socially isolated David Drucker, everyone is surprised, most of all Kit and David. Kit appreciates David's blunt honesty—in fact, she finds it bizarrely refreshing. David welcomes Kit's attention and her inquisitive nature. When she asks for his help figuring out the how and why of her dad's tragic car accident, David is all in. But neither of them can predict what they'll find. Can their friendship survive the truth?
July 11
Why I'm excited: Absolutely loved Julie Buxbaum's YA debut Tell Me Three Things. I got my sister to preorder this for me as a bday gift (even though my bday was in January, haha, it's a belated gift I am very excited for).
The Lake Effect by Erin McCahan
lake effect | n.
The effect of any lake, especially the Great Lakes, in modifying the weather in nearby areas
It's the summer after his senior year, and driven, focused Briggs Henry is ready to leave behind his ex-girlfriend, his comically aggressive grandmother, and his parents' money troubles for Lake Michigan and its miles of sandy beaches. He's lined up a summer job working as a personal assistant and living in a gorgeous Victorian on the water—exactly the kind of house Briggs plans to buy his parents once he's a multi-millionaire. But when he arrives, his boss, the eccentric Mrs. Bosic, tells him to get dressed for her funeral. Uh . . . It's the first of many funerals they'll attend this summer—to hilarious and eye-opening effect. Add to this a new set of friends-cum-enemies-cum-friends-again, and Abigail, the mysterious girl next door on whom Briggs's charms repeatedly fail, and "the lake effect" is beginning to take on a whole new meaning.
July 11
Why I'm excited: I really liked I Now Pronounce You Someone Else by McCahan (which had a refreshing and unique voice and premise) and this cover is pretty much perfect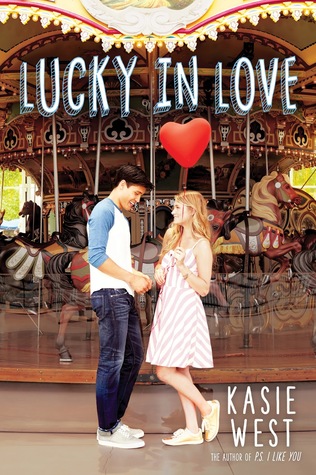 Lucky in Love by Kasie West
In this new contemporary from YA star Kasie West, a girl who wins the lottery learns that money can cause more problems than it solves, especially when love comes into the picture.
Maddie doesn't believe in luck. She's all about hard work and planning ahead. But one night, on a whim, she buys a lottery ticket. And then, to her astonishment --
She wins!
In a flash, Maddie's life is unrecognizable. No more stressing about college scholarships. Suddenly, she's talking about renting a yacht. And being in the spotlight at school is fun... until rumors start flying, and random people ask her for loans. Now, Maddie isn't sure who she can trust.
Except for Seth Nguyen, her funny, charming coworker at the local zoo. Seth doesn't seem aware of Maddie's big news. And, for some reason, she doesn't want to tell him. But what will happen if he learns her secret?
With tons of humor and heart, Kasie West delivers a million-dollar tale of winning, losing, and falling in love.
July 25
Why I'm excited: Kasie West!!!! I adore her books (her sassy, smiley characters and her boys!) and her cruise-y, feel good reads usually end up being fave reads of the year for me. I love how prolific she is becoming and will be reading this immediately upon release.
Kissing Max Holden by Katy Upperman
Kissing Max Holden was a terrible idea...

After his father has a life-altering stroke, Max Holden isn't himself. As his long-time friend, Jillian Eldridge only wants to help him, but she doesn't know how. When Max climbs through her window one night, Jill knows that she shouldn't let him kiss her. But she can't resist, and when they're caught in the act by her dad, Jill swears it'll never happen again. Because kissing Max Holden is a terrible idea.

With a new baby sibling on the way, her parents fighting all the time, and her dream of culinary school up in the air, Jill starts spending more and more time with Max. And even though her father disapproves and Max still has a girlfriend, not kissing Max is easier said than done. Will Jill follow her heart and allow their friendship to blossom into something more, or will she listen to her head and stop kissing Max Holden once and for all?
August 1st
Why I'm excited: Uh, that title - can you go wrong? haha. Well, it just looks and sounds cute and the early reviews are so promising. This is a wild card read for me (new author) and I love the possibility of finding a new writer to love.
The Undercurrent by Paula Weston
Eighteen-year-old Julianne De Marchi is different. As in: she has an electrical undercurrent beneath her skin that stings and surges like a live wire. She can use it—to spark a fire, maybe even end a life—but she doesn't understand what it is. And she can barely control it, especially when she's anxious.
Ryan Walsh was on track for a stellar football career when his knee blew out. Now he's a soldier—part of an experimental privatised Australian military unit that has identified Jules De Marchi as a threat. Is it because of the weird undercurrent she's tried so hard to hide? Or because of her mother Angie's history as an activist against bio-engineering and big business?
It's no coincidence that Ryan and Jules are in the same place at the same time—he's under orders to follow her, after all. But then an explosive attack on a city building by an unknown enemy throws them together in the most violent and unexpected way.
Paula Weston, author of the much-admired Rephaim series, returns with a standalone work: a futuristic thriller that is only slightly futuristic—but utterly and undeniably thrilling. Great writing, heart-burning characters, probing questions about where technology is taking us—and a plot that zips and zings like an electrical current itself
August
Why I am excited: From the author who brought as Gaby, Jude and Rafa! I love Weston's Rephaim series so much and am so thrilled to have more characters to meet and fall in love with.
Because of You by Pip Harry
Tiny is homeless. Nola has everything she could ask for. They meet when Nola is forced into volunteer work for the writers' group at the homeless shelter where Tiny is staying, and at first it seems impossible that two people who are so different could ever be friends. But despite her initial prejudice, Nola quickly learns that there isn't much separating her from the people who live on the streets. And Tiny begins to see that falling down doesn't mean you never get back up. Because of You is a story about homelessness, prejudice and the power of words to provide a little hope.
At its heart is the friendship between Tiny and Nola, and how this relationship changes both girls at the core. Pip Harry doesn't shy away from some heavy topics—Tiny's story is heartbreaking and the details about life on the streets of Sydney is horrifying—but Because of You is ultimately a hopeful story about human resilience and the life-changing power of discovering your best friend. YA readers aged 14 and up who loved John Larkin's The Shadow Girl and Cath Crowley's Words in Deep Blue should be diving for this powerful coming-of-age story.
August
Why I am excited: I love Pip Harry. Her characters have always seemed so real and managed to crawl under my skin (not in a creepy way, lol). Also, how awesome does this blurb sound? I am ready to have my heart broken and patched up again.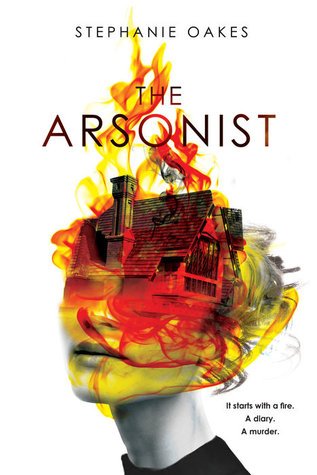 The Arsonist by Stephanie Oakes
Molly Mavity is not a normal teenage girl. For one thing, her father is a convicted murderer, and his execution date is fast approaching. For another, Molly refuses to believe that her mother is dead, and she waits for the day when they'll be reunited . . . despite all evidence that this will never happen.

Pepper Yusef is not your average teenage boy. A Kuwaiti immigrant with epilepsy, serious girl problems, and the most useless seizure dog in existence, he has to write a series of essays over the summer . . . or fail out of school.

And Ava Dreyman—the brave and beautiful East German resistance fighter whose murder at seventeen led to the destruction of the Berlin Wall—is unlike anyone you've met before.

When Molly gets a package leading her to Pepper, they're tasked with solving a decades-old mystery: find out who killed Ava, back in 1989. Using Ava's diary for clues, Molly and Pepper realize there's more to her life—and death—than meets the eye. Someone is lying to them. And someone out there is guiding them along, desperate for answers.
August 22

Why I am excited: From the author who brought us The Sacred Lies of Minnow Bly. That book broke me, and kept me up all night - so good. Pumped to read what else Stephanie Oakes has in store for her readers.


Freshers
is a YA novel about love, sex, and friendships in the first two months of college.
August 3rd
Why I am excited: I adore this duo! Lobsters and Never Evers are both fave books of mine. They are absolutely hilarious and I love the UK YA vibe.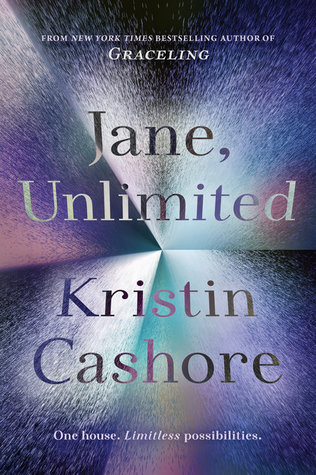 Jane Unlimited by Kristin Cashore
Jane has lived an ordinary life, raised by her aunt Magnolia—an adjunct professor and deep sea photographer. Jane counted on Magnolia to make the world feel expansive and to turn life into an adventure. But Aunt Magnolia was lost a few months ago in Antarctica on one of her expeditions.
Now, with no direction, a year out of high school, and obsessed with making umbrellas that look like her own dreams (but mostly just mourning her aunt), she is easily swept away by Kiran Thrash—a glamorous, capricious acquaintance who shows up and asks Jane to accompany her to a gala at her family's island mansion called Tu Reviens.
Jane remembers her aunt telling her: "If anyone ever invites to you to Tu Reviens, promise me that you'll go." With nothing but a trunkful of umbrella parts to her name, Jane ventures out to the Thrash estate. Then her story takes a turn, or rather, five turns. What Jane doesn't know is that Tu Reviens will offer her choices that can ultimately determine the course of her untethered life. But at Tu Reviens, every choice comes with a reward, or a price.
September 19
Why I am excited; Kristin Cashore!!! And, it also sounds intriguing :)
When sixteen-year-old Ellie Baum accidentally time-travels via red balloon to 1988 East Berlin, she's caught up in a conspiracy of history and magic. She meets members of an underground guild in East Berlin who use balloons and magic to help people escape over the Wall—but even to the balloon makers, Ellie's time travel is a mystery. When it becomes clear that someone is using dark magic to change history, Ellie must risk everything—including her only way home—to stop the process.
September 1
Why I am excited: Time travel, Berlin Wall, red balloons... This sounds unique and will hopefully be something special.
Kate

, a quiet boarder, making some risky choices to pursue the experimental music she loves.
Clem

, shrugging off her old swim-team persona, exploring her first sexual relationship, and trying to keep her annoying twin, Iris, at arm's length.
Ady

, grappling with a chaotic family, and wondering who her real friends are; she's not the confident A-lister she appears to be.
When St Hilda's establishes a Year 10 Wellness Program in response to the era of cyber-bullying, the three girls are thrown together and an unlikely friendship is sparked. One thing they have in common: each is targeted by PSST, a site devoted to gossip and slander that must have a source within St Hilda's.
Who can you trust when rumour is the new truth?
August 29
Why I am excited: Three of my fave authors <3
A gorgeously written and deeply felt literary young adult novel of identity, millennial anxiety, and first love, from the widely acclaimed author of
The Mystery of Hollow Places
In Savannah Espinoza's small New Mexico hometown, kids either flee after graduation or they're trapped there forever. Vanni never planned to get stuck—but that was before her father was diagnosed with Huntington's disease, leaving her and her mother to care for him. Now, she doesn't have much of a plan at all: living at home, working as a performing mermaid at a second-rate water park, distracting herself with one boy after another.
That changes the day she meets Leigh. Disillusioned with small-town life and looking for something greater, Leigh is not a "nice girl." She is unlike anyone Vanni has met, and a friend when Vanni desperately needs one. Soon enough, Leigh is much more than a friend. But caring about another person stirs up the moat Vanni has carefully constructed around herself, and threatens to bring to the surface the questions she's held under for so long.
With her signature stunning writing, Rebecca Podos, author of
The Mystery of Hollow Places
, has crafted a story of first love and of the complex ways in which the deepest parts of us are hidden, even from ourselves.
October 17
Why I am excited: I loved Podos's debut The Mystery of Hollow Places. It was a great match for me and I'm really keen to read more of her work. Also - working as a mermaid sounds cool, haha.
I ran away on a Tuesday afternoon in late March. Six pm and I was headed south-west in a train that smelt stale.
Seventeen-year-old Adelaide is sick of being expected to succeed on other people's terms. She's made a new plan: drop out of her fancy boarding school to read and dream. She just needs to stick it out at home for one more year and then she'll be free.
But before she can work out her next move, Addie's grandad offers her a job at the local historical society. It's dusty and messy, like her hometown, like her new life. Then she accidentally kisses Jarrod, the boy who spends his days getting into trouble. But he's as stuck as she is and Addie starts to wonder that maybe when you really want something in life, you've actually got to do something about it.
A heartfelt story about love, friendship and untidy towns.
October
Why I am excited: Sounds like my kind of read, and I've long since followed author Kate O'Donnell's blog and she has the most gorgeous and impeccable taste in books. I love this cover, too <3
The First To Know by Abigail Johnson
Don't miss the second gripping and heartfelt story from the author of If I Fix You! A girl's plan to find her father's birth family turns potentially devastating when the secret DNA test she has done reveals that she has a half brother her age she never knew about.

Dana Fields's father never knew his parents. When Dana secretly does a DNA test for her dad, hoping to find him some distant relatives for his birthday, her entire world implodes. Instead of a few third cousins, Dana discovers a half brother her age whose very existence means her parents' happy marriage is a lie.

Dana's desire to know her half brother, Brandon, and the extent of her dad's deception, clashes with her wish not to destroy her family. When she sees the opportunity to get to know Brandon through his cousin, the intense yet kind Chase, she takes it. But the more she finds out about Brandon, her father's past and the irresistible guy who'll never forgive her if he discovers the truth, the more she sees the inevitable fallout from her own lies. With her family crumbling around her, Dana must own up to her actions and find a way to heal the breach—for everyone—before they're torn apart for good.
November 7
Why I am excited: I unexpectedly loved Abigail Johnson's debut (If I Fix You) so I'm thrilled to be able to follow it up so quickly with her second novel release :)
Not Now, Not Ever by Lily Anderson
The sequel to
The Only Thing Worse than Me Is You
, inspired by
The Importance of Being Earnest.
Elliot Gabaroche is very clear on what she isn't going to do this summer.
1. She isn't going to stay home in Sacramento, where she'd have to sit through her stepmother's sixth community theater production of
The Importance of Being Earnest.
2. She isn't going to mock trial camp at UCLA.
3. And she certainly isn't going to the Air Force summer program on her mother's base in Colorado Springs. As cool as it would be to live-action-role-play Ender's Game, Ellie's seen three generations of her family go through USAF boot camp up close, and she knows that it's much less Luke/Yoda/"feel the force," and much more one hundred push-ups on three days of no sleep. And that just isn't appealing, no matter how many Xenomorphs from
Alien
she'd be able to defeat afterwards.
What she is going to do is pack up her attitude, her favorite Octavia Butler novels, and her Jordans, and go to summer camp. Specifically, a cutthroat academic-decathlon-like competition for a full scholarship to Rayevich College, the only college with a Science Fiction Literature program. And she's going to start over as Ever Lawrence, on her own terms, without the shadow of all her family's expectations. Because why do what's expected of you when you can fight other genius nerds to the death for a shot at the dream you're sure your family will consider a complete waste of time?
This summer's going to be great.
November 21
Why I am excited: I loved The Only Thing Worse Than Me is You. This sounds just as awesomely good and I really am holding out for it!
Just putting this post together has gotten me pretty excited about the rest of my 2017 reading life, tbh, lol!
Are any of these books on your wishlist for 2017?
What upcoming books are you most excited for?
Hope all is well in your world,
:) Nomes