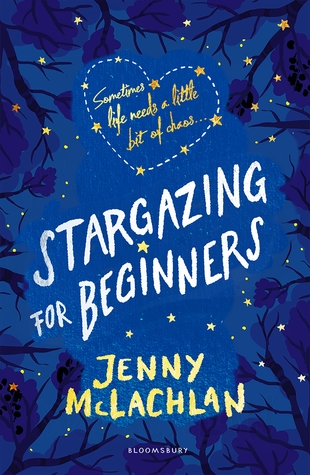 Science geek Meg is left to look after her little sister for ten days after her free-spirited mum leaves suddenly to follow up yet another of her Big Important Causes. But while Meg may understand how the universe was formed, baby Elsa is a complete mystery to her.
And Mum's disappearance has come at the worst time: Meg is desperate to win a competition to get the chance to visit NASA headquarters, but to do this she has to beat close rival Ed. Can Meg pull off this double life of caring for Elsa and following her own dreams? She'll need a miracle of cosmic proportions …
Fans fell in love with the warmth, wit, romance and fierce friendships in Flirty Dancing, Love Bomb, Sunkissed and Star Struck, and Stargazing for Beginners has all that and galaxies more. This is the best kind of real-life fiction – with big themes and irresistible characters, it goes straight to your heart.
Stargazing for Beginners was an unexpectedly awesome a new fave for me - swoony, fun and a little bit quirky.
I found the whole novel to be so charming and completely refreshing and addictive reading experience.
I love it when my fave literary things align to create a a brilliant read. Stargazing for Beginners had so many magic components for me:
Meg is just so delightfully endearing.
Though there are deeper issues in this book ~ it did not cast a dark shadow over the whole tone of the book. I love finding novels that are funny, whimsical and light-hearted at the same time as dealing with some more serious themes.
I love how a motley crew of friends slowly assembled - the side characters felt like protagonists

of their own lives - fully nuanced and unique and diverse in a way that reflects real life.
Some of the teachers in this novel really steal the scene. So. Hilarious and bumbling and charming. And, sneakily, caring and making a real difference. I love seeing teachers advocate for students - and teachers who don't mind being seen as daggy for the sake of genuinely caring for their

students and wanting to inspire and nurture them.
The comedy! The laughs! Those awesomely awkward situations

and moments!
And Ed! Swoon! Fun! Antagonistic

kind of rivalry with this slow burn of maybe liking? So many classic scenes together. LOL at the science fair, and the takedown moment on the science excursion. And the showstopping finale!

Science! Smart kids. The whole universe and solar system and all that stuff :)
Finishing this book left me with a warm buzzing glow and I was straight away texting some reading BFF's to get on with reading it asap. Stargazing for Beginners was an ultimate feel good read with depth.
Take note: it opens fairly dramatically and perhaps some of you may think: Eh? What's going on here? This might be too quirky for me?
But it really settles into a groove and everything becomes so genuine and heartfelt
I really believe so many people will find a lot to love in this upbeat, warm and fierce novel. Absolute fave for me - I'm still smiling just thinking about it now.
Add this contemporary YA to your TBR if you're looking for a breezy, charming read with a smart lead character
.
Stargazing for Beginners @ goodreads