It's been whisper-quiet around here while I've been deep in that mid-semester cave of essays and assignments and general stress and panic. While I'm studying I limit computer and online time as uni research and online lectures are more than enough screen time BUT I still spend my nights (well, mostly early hours of the morning, midnight - 2am) reading and I've so many reviews half-composed in my head to share with you all for when a quieter time comes (if ever, haha).
Here's four (just-bashed-them-out, raw-draft, sharing-thoughts type style) reviews for recent books I've read (and recommend):
Lone Star by Paullina Simons
This was the most engaging Paullina Simons book I've read in a while (her last few were DNFs from me). Having said that, it still has a slow start (Johnny, the boy in the back blurb) is not introduced until page 200 (and I thought the back blurb detailed the inciting incident...so I kept wondering why the story was meandering so).
My fave parts about this were:
The historical aspect (when visiting tourist sites, like
Treblinka
~ amazing and impacting)
The twist/reveal (some lovely hints were laid and then I was much more invested when more was revealed).
One of the characters. He was amazing and the reason I have booted this up from a 3 to a 4 ( I liked him so much I would happily reread his scenes -- SWOON). He is a definite stand out and a testament to how Paullina can create nuanced and lingering swoon-worthy characters that live beyond the last page of the book.
How the book spans a number of years after the trip and follows up on the characters. I loved hopping forward intervals in time and seeing where everyone was.
How, in the end, all the characters felt so real. Paullina does a great job with this (probably in all those little details that bug me at the time, making the plot go slowly by)
The second half was much more engaging but it was the ending that I couldn't put down. I liked the ending a lot but, considering how wordy Paullina was with the first half, I felt the ending was incredibly short considering how much the book spent building up to that moment.
My least fave bits were:
How LONG and drawn out some sections were (so much detail, at the expense of moving the plot forward). I considered abandoning this a number of times but am glad I didn't.
How ridiculous and annoying some characters were (Hannah and Johnny).
I love travel books set in Europe but so much went disastrously wrong it was like the reading and catching the anti-travel bug, haha.
Medea's Curse by Anne Buist
An Australian psychological thriller debut about a forensic psychiatrist working in Melbourne. Buist has had over 25 years experience in clinical psychiatry and this book was fascinating to read (all the patients she was seeing), their psychological disorders were layered and Buist teams their stories with some major suspense, twists, a stalker, a messed-up, sexy affair making Medea's Curse a complex and compelling read.
The one downside to this was how complex things did get -- at first it took me a while to find my groove with so many threads introduced (they all do come beautifully together).
Buist is married to
Graeme Simsion, author of The Rosie Project.
This thriller was different to others I have read as it spends significant time in the psychiatrists office, which I completely loved. Completely recommended for anyone who is into
perinatal psychiatry. cases of abuse, kidnapping, infanticide and murder. despite the novel being framed so well into a captivating set-up, the content rings true and I really felt for the characters and their tragedy's. Definitely haunting and I'll be back for more!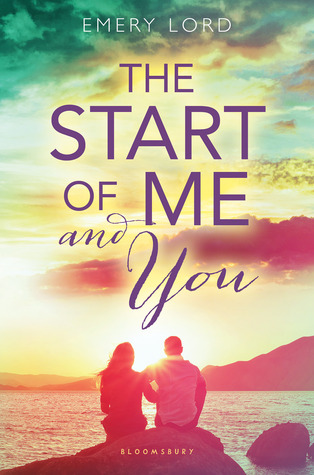 The Start of Me and You by Emery Lord
I really enjoyed Lord's debut Open Road Summer and The Start of Me and You was just as compelling and nuanced and fab to sink into.
Lord has a way with capturing friendships and making the reader feel like they are a part of the gang. Lord also does fab job with Paige's family relationships -- I loved her grandmother and the relationships she had with her younger sister and mum and dad -- there's so much to admire about how Lord writes relationships and emotions. There is a romance in here that does not fall into any YA tropes -- it's organic and delightful and not at all what I expected.
This book really is a stand-out in contemporary YA -- easy to sink into , heart-felt without ever venturing into melodrama, relate-able, fun and emotionally moving. The pacing is great and, if the mood hits you and you find your groove, you just may read it in one sitting (like I did!)
For fans of Sarah Ockler :)
Outback Ghost by Rachael Johns
My first Aussie rural romance, haha. I actually see Johns' books all the time at the shops which inspired me to download an ecopy from my library to try out. This is not my usual genre but it was mellow and breezy (perfect for reading in between academic research) with character back-story's that provide emotional depth and lingering tragedys (just look at that male model's pensive face! Tortured soul, lol).
It reminded me a little of Kristan Higgins (but without all the over-the-top corny stuff). This was more quiet romance/drama rather than romantic comedy (okay, I actually have no idea how the romance sub-genre is classified, I'm just making stuff up, haha, but if it was a movie it would be a romantic drama). Anyway, it's the third in a series (of which I have not read the others, but it was fine stand alone) and it had a great mystery with a little sister who mysteriously disappeared years ago.
Plus great chemistry and slow-burn romance with a heap of sexy thrown in. I'm not sure I am going to follow up with this genre? But I did like this, surprisingly more than I had expected to :)
I also read these five:
... and didn't really love them :/ (Although All The Rage is outstanding in terms of what Summer's set out to do, well written,
etc
, it just was not my kind of read, hey #confessions).
And I have been rereading too:
I plan to reread all my Jaclyn Moriarty's this year (she's the most happy-making author around) and finish the Georgia Nicholson series (I'm only up to #4!). On The Fence was even better the second time around!
Upcoming: I have
reviews
coming up for these three 2015 contemporary YA titles. One of them is a fave read of the year so far... :) It's
probably
not the one you're
guessing
, haha (I'll keep you in suspense for a little while longer).
How have you guys been?
What's the best book you've read lately?
I'll see you all again soon (on the other side of my assignments! ;))